Today I'm Head Referee for Profound Decisions in their Maelstrom Campaign. This company is run by Matthew Pennington who formed it after the hobby company we ran together (along with several others) finished. The hobby company was called Omega LRP and I concentrated on running its rules, logistics and Head Office, but before LRP ever really existed, I grew up doing re-enactment at weekends along with the rest of my family. Already though my organisational streak was beginning to show as I also staffed SF conventions and ran a school gaming club as well as reffing numerous tabletop role-playing games. I continued in this vein until I became a student at Keele University in the mid-eighties. There I became heavily involved in running several societies including being a founder member of KLAS (Keele Live Action Society). As well as running their LRP campaign at weekends (using both traditional linears and tavern nights), KLAS ran water pistol games between lectures that would last for up to a week. Many were heavily influenced by my favourite science fiction and fantasy films, such as Highlander and Terminator, whilst others were variants on the American Killer game system, such as Assassin's Circle and Gang Wars. We occasionally travelled to play in other systems, most notably Dropzone the annual lasertag convention.

After graduating (and successfully being a co-organiser of a university national gaming convention - Sto-Con-Trent) I discovered fest-level LRP in the shape of Summerfest and became involved as a staff member when The Lorien Trust evolved from it. Originally I was meant to be only a plot NPC (The Violet Mage) at the very first Gathering but that quickly spiralled into working in the admin side of the organisation. In the following years I became involved in nearly every aspect of the event but in particular producing the game item laminates and everything connected to them, and organising the workings of a national sanctioned event system. In total I spent about five years as one of their top staff members.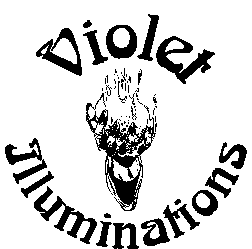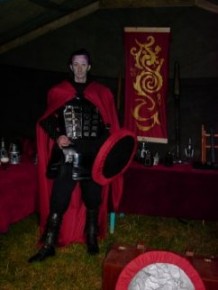 At the same time I also created Violet Illuminations which ran 13 very successful fantasy tavern nights with one review saying 'it set the standard for professional tavern nights'. We originated both The Open Grand Council and The Convocation of Guilds events which are still run today by other people. The VI events regularly attracted over one hundred players and the main complaint we had was of trying to fit in too much plot in one evening ! I couldn't have run VI without the help of Guy (my ex-flatmate) - a plot writing genius who had also been my main source of help at KLAS. After VI Guy went on to run several horror evenings of his own under the title of Dark Illuminations.
Another organisation I was involved with was Quest Celtai, the second largest fest system back then. At their events I played a major NPC (Dan-Rai - head of the Alchemists Guild) and also wrote rules regarding potions and the like. I also had close ties with Amethyst, run by long time friends of mine - Sarah and Simon. They ran several innovative LT sanctioned tavern nights and linears, including the infamous Nights Dawn, which was almost the beginning of a new faction called The Gargoyles - but that's another far too long story...!
Over the last couple of years I have begun playing in a new LRP system called Grand Design, the first time I think I've really LARPed for over ten years! Our group is up to 20 strong, nearly all being old Omega LRP staff members! Here is a picture of me in my military quarters at their first event playing General Skipio, Commander of the Sanreval Legions of the Light. More photos from their latest event can be found [here].